Health
Suffering in silence: how Kenyan women live with profound childbirth injuries
By Kathomi Gatwiri. Lecturer, Southern Cross University
Sasha is 22-years-old. She was married off when she was just nine and by the time she was 11, she was pregnant with her first child, and unprepared for childbirth.
So when labour came, in the middle of the night – in her geographically isolated village in rural Kenya – she was unaware of the painful fate awaiting her.
During childbirth, the baby's head was too big to fit through Sasha's pelvis, causing the baby to get stuck in her birthing canal. Traditional birth attendants tried their best to help Sasha but they were not skilled enough to handle the complications. She needed surgery, and quickly. But because she could not access emergency obstetric services, she spent the next six days trying to push out the baby that was stuck inside of her.
In the end, Sasha delivered a dead, rotten baby in macerated form. She was not only in grief of her lost child, but was also traumatised by her experience which left her with profound injuries and a double obstetric vaginal fistula.
An obstetric vaginal fistula is a tear between a woman's vagina and another body part – usually caused by obstructed or prolonged labour. It occurs when the baby's head is trapped against the pelvic bone and cannot descend further. As the labour intensifies, the blood supply is cut and the surrounding tissues die. Shortly after the baby dies and labour continues until the baby is pushed out.
Across the world, there is an estimated two million women and girls just like Sasha who live with vaginal fistulas. There are up to 100 000 new cases each year. In Kenya, at least 3000 new cases are reported annually but research shows that only 7.5% are treated.
But these statistics are bound to be grossly inaccurate due to under-reporting, poor and non-existent data keeping in most African hospitals. This is made worse by women feeling internalised shame which keeps them from seeking help for their fistulas. It means that the magnitude of the problem on the continent is assumed to be much higher.
Sasha was one of the women I interviewed in my research which investigated how Kenyan women with fistulas negotiated the complexities of living with a body that leaks. This included the process of trying to get treatment as well as the journey to recovery from childbirth traumas that rendered their bodies abject, damaged and at times irreparable.
My research revealed a lack of resources and the structural challenges that prevent women from getting the help they need. This is particularly prevalent in remote areas, where access to health services is not available or is very limited.
It also reinforces what researchers and medical professionals in Kenya have established over the years.
Negotiating the challenges around fistula
Kenya continues to face enormous challenges as far as dealing with vaginal fistula are concerned. The biggest is the lack of resources to treat fistulas along with a severe shortage of fistula surgeons. By 2014, Kenya only had three internationally renowned fistula surgeons and less than 10 surgeons who could perform simple obstetric operations.
This has made it logistically impossible to treat all the women who seek treatment every year. It also means that many are left untreated for years adding to the ever increasing backlog.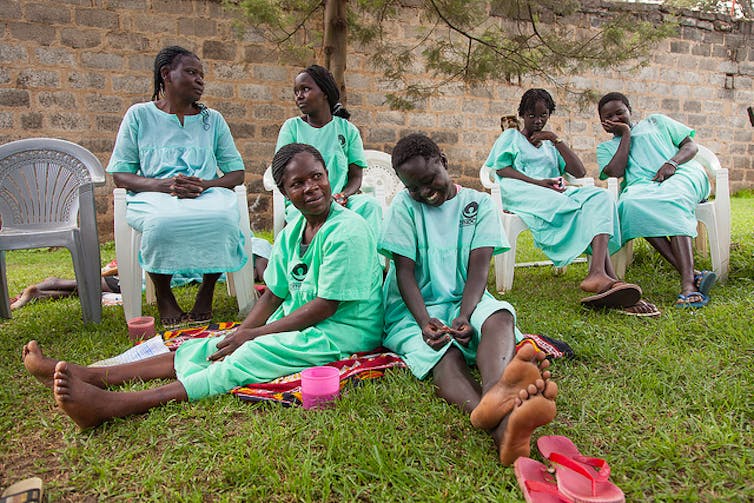 But for most women with fistulas, the damage is not only physical, it's also psychological. They negotiate rejection and social exclusion on a day-to-day basis which can have severe psychological consequences. This can be more destructive than the actual fistula.
The women I engaged with explained how their fistula diagnosis threatened their social and intimate lives. They explained how having a "leaking body" was constructed as being dirty, deviant and contaminated.
Many described that the way they went about their lives was primarily occupied with finding ways to protect themselves from being "outed" or shamed for the pungent smell that they carried with them.
Their stories revealed the structural and sociocultural challenges that explain why women in Kenya are at risk of developing vaginal fistulas and then having adequate treatment delayed or denied them. This is particularly prevalent in remote areas, where there are transport barriers, impassable roads, and limited or unavailable access to health services or emergency obstetric care.
Responding to fistulas
In the last decade, the Kenyan government has initiated a programme under which local health workers train traditional birth attendants working in remote areas to mitigate maternal casualties. But despite the fact that the training includes skills to manage birthing complications, some women require immediate medical intervention.
Kenya also rolled out other public health campaigns to end maternal deaths. One was the Beyond Zero campaign which was initiated by Kenya's First Lady, Margaret Kenyatta to raise funds and awareness on issues of safe delivery, and obstetric injuries that lead to vaginal fistulas.
Although the initiative was heavily criticised as an attempt to provide a quick fix to structural problems, it raised national awareness about vaginal fistulas and mobilised resources for free surgeries for women with the condition.

The criticism reflects the importance of addressing the underlying causes of fistula. These causes have been summed by one of Kenya's most renown fistula surgeons Dr Weston Khisa, who says
Medically, fistula is caused by obstructed labour, but the underlying causes are obstructed transport, obstructed family planning, obstructed emergency care, and obstructed human rights.
Ending fistulas means eradicating both cultural and structural obstacles that put women at risk of developing preventable tragedies such as fistulas. It requires a complete overhaul of health infrastructure in Kenya to ensure that maternal care and women's reproductive health are prioritised – and that no woman has to lose her life while trying to give one.


Editor's note: This story originally appeared in The Conversation on June 5, 2018.